Brand new homepage for The Cosmetic Skin Clinic
We're very pleased to announce finally publishing a new homepage for The Cosmetic Skin Clinic having taken into consideration changes within the industry, feedback from staff and patients just to name a few as well making considerable effort to ensure a top notch technical implementation.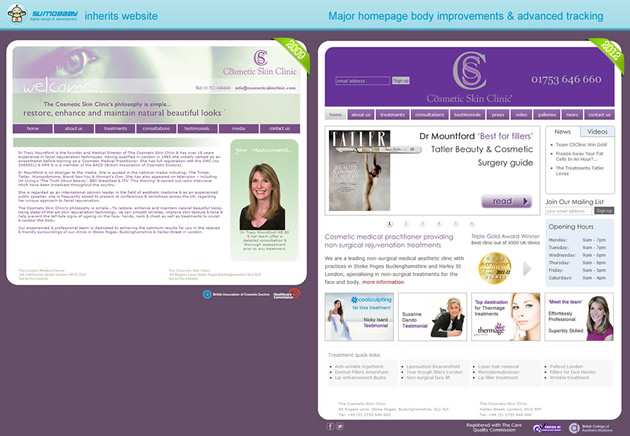 Since having inherited the website in 2009 Sumobaby has transformed the website inside out turning it from a reasonable but basic website to a real traffic driver serving it's current patients and conveying the clinic's message to new customers.
Even ahead of major design changes the Cosmetic Skin Clinic won a Silver award for best website out of 4500 UK clinics at the Aesthetic Awards in December 2011.
As briefly outlined in the opening paragraph we analysed all the research collated and finally agreed on this design. The custom event tracking initiated on the homepage will permit the homepage to evolve with much greater ease in the future.
Take a look at the new Cosmetic Skin Clinic homepage