Cosmetic Skin Clinic homepage refresh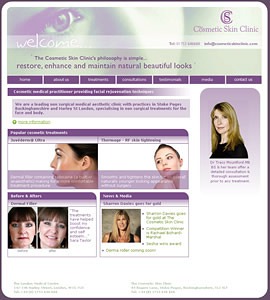 The Cosmetic Skin Clinic have launched a refreshed new homepage design.
Having got away from featuring a brief introduction to the clinic but still maintaining a focus on it's Medical Director Dr Tracy Mountford it now features links into popular treatments such as lip enhancements & face/Y-Lift, Restylane Vital Light the latest news & media items as well as a wealth of useful information hidden away awaiting to be expanded.
The home page is now a real entry point into the businesses product and services, a well received change by the customers of The Cosmetic Skin Clinic.