Increasing the performance of your websites by reducing page load times
Why decrease the time it takes for your website to load?
Many studies over the years have shown there is correlation between website speed and revenue. If your site loads slowly a greater percentage of users will abandon your website.
Back in April 2010 Google announced that it would include Page speed as a factor in their ranking algorithm.
Steve Souders, one of the most prominent industry Web Performance Optimization evangelists reported that 100ms of latency costs Amazon 1% of profit.
Now focusing on the positive effects of increasing web performance, Firefox increased the download rate of it's browser by over 15% just by decreasing the page load time by 2 seconds.
Users expect sites to load within 2-3 seconds
In the infographic below you'll see that on average websites take a total of 6 seconds to load whilst consumers expect for a site to load within 2 seconds or less (Click on the image to view the full infographic).
Akamai Technologies released the results of a study titled "Consumer Response to Travel Site Performance" which states that 57% of online shoppers will wait 3 seconds or less before abandoning the site whilst 65% of 18-24 year-olds expect a site to load in two seconds or less.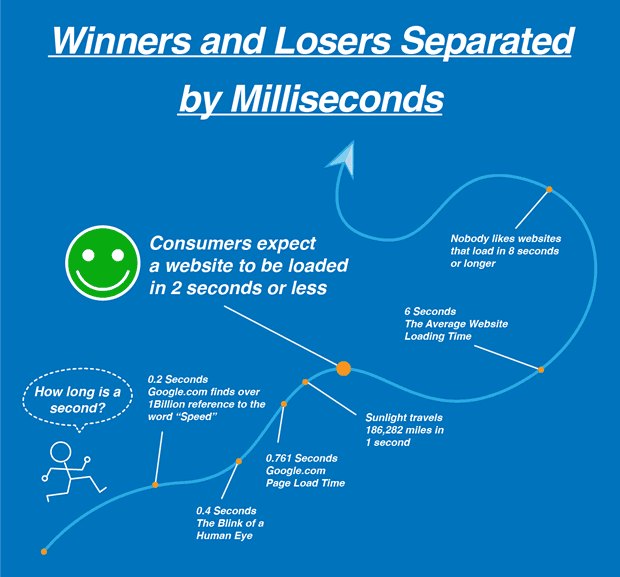 See how pages perform on your website
Google's PageSpeed Insights gives a great and simple breakdown of your website's performance. There are often valid reasons for not complying to all recommendations but generally you should be looking to achieve above 70% in both mobile & desktop category. Below 40% and your website is really underachieving.
Web Page Test is a great tool to look at the performance of key pages of your website mimicking different browsers from various locations around the world. More complex to comprehend than Google and requires a bit more technical know how to make the most of it.