Top 5 features exclusive to the new AdWords interface
Google has recently released their new visually appealing AdWords user interface. The new AdWords experience offers new exclusive features which look quite useful.
At this stage, it's worth noting that to get most out of AdWords you may need to switch between the old AdWords and new UI.
The new UI doesn't give you yet full access to all popular features such as display remarketing audiences or price extensions.
Fortunately, you can switch back and forth at the click of a button.
1. New demographic targeting
In case you missed it, Google released demographic targeting for search ads to help advertisers target more accurately their target audience and adapt their messaging according to gender and age group.
The new UI provides you new valuable demographic targeting options which gives all advertisers the opportunity to target specific users based on their household income and even parental status.

The household income feature is handy because if you are selling, for example, a high-end Chanel handbag, you may want to focus your advertising mainly to more affluent customers.
Why would parental status be useful?
From a high-level perspective, this type of information could be helpful to many brands and advertisers across so many industries to drive relevant ads and promotions which are more meaningful to them.
For example, families might be interested in buying a larger car, a bigger house or are considering kids friendly holiday destinations and resorts.
2. Improved reporting
The new reporting UI is not only more visually attractive, but it's also easier to analyse, manage and optimise your PPC campaigns.
You can now also examine how your ads are performing on specific days and hours of the week by having a look at the heat map. This way depending on the outcome of your campaign, this additional insight will help to fine-tune your next campaign and increase your chances of success.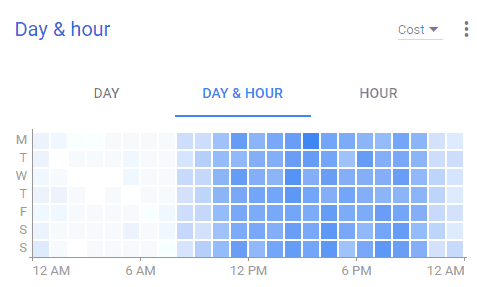 The last reporting related feature gives you the possibility to identify new keyword ideas and even find new negative keywords for your campaigns with a keyword tag cloud in the main dashboard.
3. Easy advanced bid adjustments
Finally, there is an easier way to manage your bids, especially for calls. The advanced bid adjustment UI enables you to adjust your bid to drive specific actions from the SERP.
For example, it could simplify your call-only campaigns.
4. New audiences page
The new Audience page becomes your single destination to manage all audience targeting and related optimisations.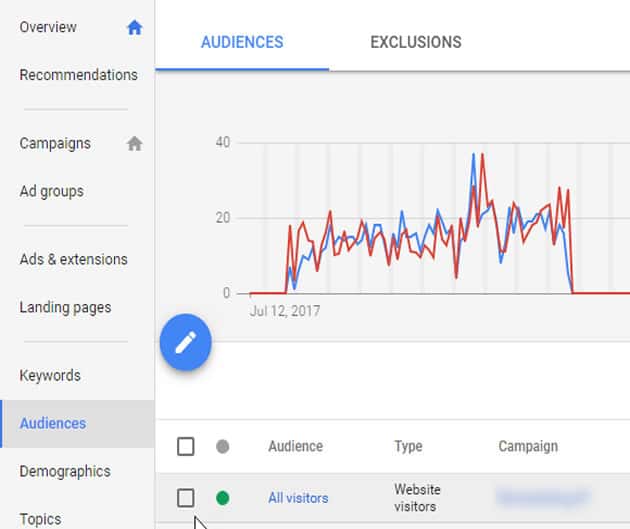 5. New promotion extensions UI
The new promotion extension interface is a great way to show and link to a specific offer in your text ads.
What's great are all the different customisation options such as adjusting date ranges, discount types and even occasions.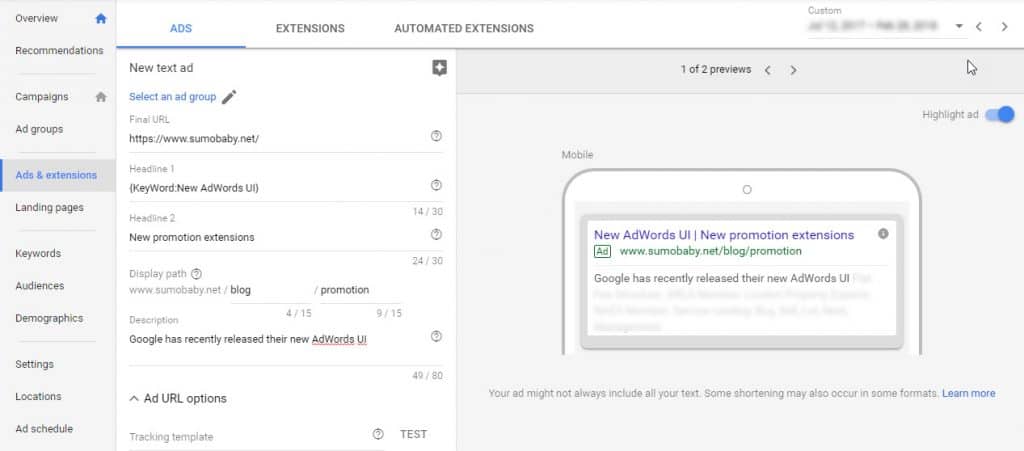 Finally, if you are interested in having a closer at the detailed Google support notes related to the new AdWords experience.