Top 5 facts about new Facebook Fan Page Timeline
Back in late Septemeber 2011 Facebook announced Timeline, a story of your life for users and it was only a matter of time that this would be introduced for Fan Pages. Last week admins of Fan pages will have recieved notice that pages will be switched to Timeline style March 30th 2011, giving most business the best part of a month to prepare.
Beneath you will see the key features illustrated using the Tiffany fan page.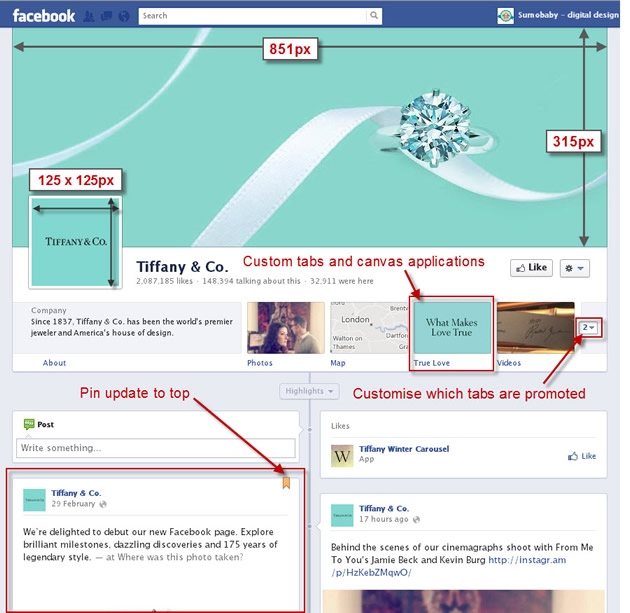 Top 5 things to know about Fan page timeline
1.) Custom tabs/default welcome landing page
The biggest change that will have many businesses up in arms is losing the ability to assign a custom tab to be the default view. Often used to encourage people to "Like" a Fan page or for other marketing puposes this has now taken a back seat.
You can choose to promote custom tabs/applications just below your cover photo but you cannot set a custom tab.
Application/canvas page maximum width
Width has increased from 520px to 810px (although an existing bug may only display 780px).
2.) Cover photo
This large 851px x 315px banner is quite different to the previous Skyscrapper style picture fan pages had in the left hand column.
3.) New profile pic
Although this is 125px x 125px at time of writing you still need to upload images of 180px x 180px.
4.) Highlight & pin posts
You can now choose to highlight posts in your timeline which will have those posts take up the full width of your timeline or "pin" a sticky post to the top of your timeline.
5.) Private messaging
Facebook have introduced the ability to receive private messages from your fans just in case you wanted/needed to speak with only one of your fans.
[googleplusauthor]